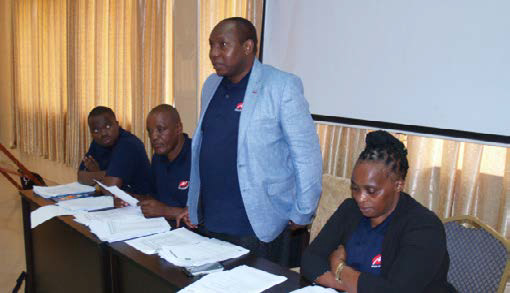 M/S: NICE CATERING LIMITED is the Tanzanian catering services registered Company since 2002 under the Companies ordinance Cap 213with headquarters in Dar Es Salaam at Nyerere Road, Gold Star Bus Stop, Karibu House-2nd Floor; we provide high quality offering reliable and innovative catering services to our customers. . It was registered on 2002 under the company ordinance
Cap 213.


M/S: NICE CATERING COMPANY LIMITED is ISO 22000:2018 certified company complying to food safety management systems in assurance of food safety with the CERTIFICATE NO. TZ19/90363.
M/S: NICE CATERING LIMITED provided a multinational highly qualified team to manage and operate the catering and maintenance services on this demanding project. A full balanced menu for both a la carte and buffet services is provided, with colorful and tasteful foods with multi ethnic pallet.
M/S: NICE CATERING LIMITED is one of pride in performance and integrity plus a level of commitment that comes from employee satisfaction and motivation. Our professionals are dedicated to providing clients with value-focused service and results.

M/S: NICE CATERING LIMITED seasoned Director of Operation, Operation manager, Project Managers, Supervisors, Canteen Managers and Executive Chefs are known for their leadership, applications of highest related standards and technology, and ability to achieve Clients' highest satisfaction levels.

Experienced in various projects based in large military services, Financial institutions, Universities, etc M/S: NICE CATERING LIMITED has earned a reputation for developing and using leading-edge con- cepts to solve challenging situations. Our standard is to incorporate skills developed in one industry into cost-effective solution in others. This forward-leaning philosophy, coupled with the strongest commitment to learn, anticipate, and adapt to an ever changing set of client's needs and desires, has enabled
M/S: NICE CATERING to establish and retain long-term client relationships.